Harry Styles makes more or less the same argument as @badcoverversion on this point https://t.co/3MSOVYPd3y

— Robin James (@doctaj) April 18, 2017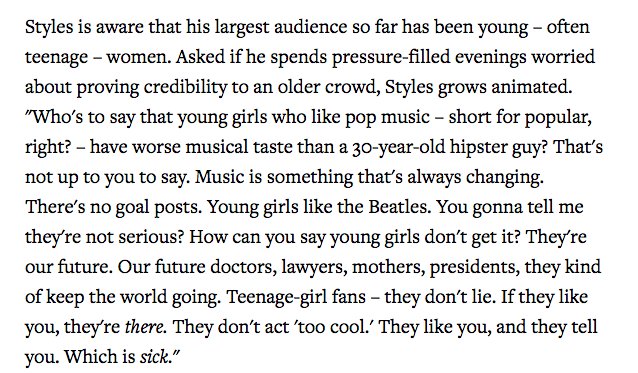 My kink is Harry Styles respecting teen girls and their pure unironic enjoyment of things, thank u. pic.twitter.com/pY9GZYQWeQ

— katherine speller (@Kathriller) April 18, 2017
Oh, hi! Earlier this week, Robin James noted on Twitter that I've argued the same thing that Harry did in this quote. And she's right!
At the risk of being so self-centered that I hawk my most-popular blog entry not about adjuncting again, I want to revisit this topic. Obviously, I still believe that teen girls receive unfair attacks for their taste in books, music, and film, and it's especially true in the Age of Trump. (Just a few weeks ago, plenty of people were comparing Trump to a capricious, mean 13-year-old girl. This is both unfair to teen girls and an underestimation of Trump's overwhelming, malignant ignorance.)
But rather than rehash my (or Harry's) arguments about teen girls—who are awesome, and who do love unironically—I want to shine a spotlight on Harry Styles in the present moment, because it's part of a familiar trajectory in pop music history.
You might have a singer popular with girls, who knows how to address that audience. Or a group of slightly retro singers who merge the pop of today with the rock of yesteryear into something that drives a stadium of girls to deafening screams. (FYI that Beatles link makes me want to punch the author.) Or a boy band manufactured from somewhat talented constituent parts, all of whom can dance, sing, and maybe act a little. Or a family of musicians, with one super talented front kid. Or a band of guys in their twenties who inexplicably appeal to teen girls despite cryptic lyrics about the union of the snake and wearing more makeup than an experimental Sephora employee trying to shock her customers. Or a synth pop band with foppish haircuts and a penchant for silly bondage gear. Or another boy band manufactured from somewhat talented constituent parts, all of whom can dance, sing, and maybe act a little. Or another. Or another.[1]
And girls love those guys! (I'm deliberately leaving female performers out of this equation, because, hello, different ballgame.) Critics, on the whole, do not–or, if they do, it's only begrudgingly. Click on some of those links above, and you'll see what I mean.
But then something happens. Time passes, and the boys in the band grow from fresh-faced to bearded and develop songs that delve into "serious" topics, or at least more adult ones. The Beatles, so the narrative goes, smoked some pot with Bob Dylan and started writing folkier things, and thus became the first boy band to cross the pop boundary into more critically accepted territory. Depeche Mode hooked up with artsy photographer Anton Corbijn, and suddenly critics noticed Violator was a good album (actually, not suddenly: I still remember Chuck Eddy's scathing review in Rolling Stone, which critiqued the band's audience more than the music itself.) But that album became a tipping point, and the band acknowledged that Corbijn's photography and videos led to them being taken more seriously.[2] Duran Duran worked with Nile Rogers on Notorious. Justin Timberlake worked with Timbaland on FutureSex/LoveSounds.[3]
But what all of these have in common is the idea that the music that the boys made previously lacked seriousness because it appealed to teen girls. Most boy bands grow up by shifting toward genres associated with male audiences. But even if the music itself does not change dramatically (e.g. Depeche Mode), the connection to other, more critically lauded males allows the boy band to become grown up and a serious contender for male listeners.
And while Harry Styles gets his audience of teen girls, he's–sigh–still doing the same thing as his musical predecessors. For example, an article in Forbes about his new single, "Sign of the Times," specifically highlights the rock direction of the song as a sign of a "true artist":
"Sign Of The Times' was greeted first with surprise, and then with almost unanimous acclaim. Critics everywhere loved not only the chance Styles took in going down this rock-y road, but many applauded the song itself, and the majority of media outlets suggested readers give the cut a try. Skeptics and those expecting more boy band fodder were forced to immediately reconsider the man not just as a bestseller, but now as a true artist. One Direction may have taken over the world with their music, but they were never true critical favorites. Where he stands in the eyes of critics and music journalists everywhere may change now that Styles has shown what he can do when left to create with the right talents and some freedom. "Sign" elevates him to a place few singers reach after leaving the group that made them stars. 
I do love that Harry Styles stuck up for his audience of teen girls, and I'm all for him making whatever kind of music he wants. But it's important to understand that even though Harry Styles loves his teen audiences, he's going down a familiar path where critics will still shit on that audience.
[1]In these last three examples, I'm talking about NKOTB, Backstreet Boys, and *NSync, but only one member (Justin Timberlake) of these three really has the critical leap that I'm talking about.
[2]I will add this citation later, when I'm at home. It's from a Depeche Mode book I don't have access to at the moment!
[3] I could write a whole other blog post about white male former teen idols working with black producers to gain credibility.